CaliberBRM
Electronic Batch Records Management System
Organize, Automate, Control your Batch Manufacturing Records
CaliberBRM is a very valuable Information Technology tool for Organizing, Automating and Controlling of Batch Manufacturing Records (BR) in an industry like Pharmaceuticals, where Batch Manufacturing takes place and meticulous records are to be maintained, under strict compliance to Regulations. It provides an innovative automation solution right from systematic and structured organization of documents to fully automated on-line product documentation. CaliberBRM offers the flexibility to use it to the extent needed. A customer can opt for a paperless operation or can incrementally automate any one of the processes in Batch records management eg. Automate the process of creation of Master Batch records or Automate the process of Issuance or Automate the process of on-line paperless execution as per the need of the customer. This is a clear differentiator for CaliberBRM.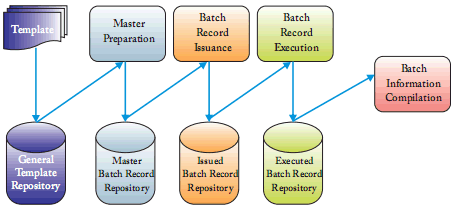 UNLIMITED SCOPE FOR INTEGRATION
Integration between CaliberBRM and ERP systems such as SAP, ORACLE OPM can give an 'out of the box' solution for an effective, efficient and robust Batch Record Management System. CaliberBRM can also be integrated with content management solutions to initiate change control, deviation control and CAPA.
BENEFITS FROM IMPLEMENTING CaliberBRM
Continuous compliance with cGMP, 21CFR Part 11 etc.
Simplification of the compliance environment
Flexibility in workflow design
Streamlined performer/witness signoff
Configured concise signature meaning
Web-based platform
Analytics and reporting
Integrates with other applications like ERP, LIMS etc.
Option to use Offline forms for limited purposes
Process-to-process launching
Access to centralized data
Flexible platform
Continuous validation
BIG SAVINGS IN TIME, PAPER, EFFORTS AND MONEY!